Business Directory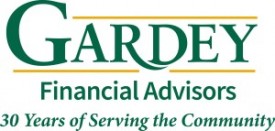 Gardey Financial Advisors
Contact: TBA
URL: http://www.gardey.com/

Locations:
100 Harrow Lane
Saginaw, Michigan 48638
Phone: 1-800-550-3880
Fax: 989-791-4572
INVESTMENT ADVISORS
The advantages that come with owning investment assets also bring the responsibility for managing them. Allowing investments to go unmanaged is not an acceptable alternative. Changes in your personal goals all dictate that your investments must be under continuous supervision. Who should manage your investments? In answering this question, you have two options. You can either do it yourself or you can have someone do it for you.
If you decide to do it yourself, you must commit a significant amount of time developing a disciplined investment process. Many people have told us that this process was extremely burdensome and demanding and that they lacked the confidence, knowledge, experience and time that they felt were necessary to be successful.
Gardey Financial Advisors provide a disciplined approach enhanced by our comprehensive services and years of experience. We're here to assist you in obtaining the financial future you're dreaming of.