Business Directory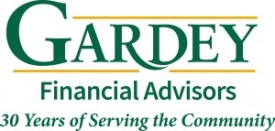 Gardey Financial Advisors
Contact: TBA
URL: http://www.gardey.com/

Locations:
100 Harrow Lane
Saginaw, Michigan 48638
Phone: 1-800-550-3880
Fax: 989-791-4572
Backed by more than three decades of industry experience, our team of Registered Investment Advisors have just one collective goal - to always hold your financial needs and desires as our highest priority. As your personal Fiduciary, we act solely in your best interest, providing you with sound investment management and financial planning advice. We proudly adhere to the strictest guidelines of the National Association of Personal Financial Advisors.
Our focus at Gardey Financial Advisors in Saginaw is to give you the peace of mind and knowledge that you have a customized financial plan in place to meet your financial goals. We follow a philosophy that pairs personalized investment management with a broad range of financial planning services designed to help you achieve the financial future that you envision.
When you choose Gardey Financial Advisors, we earn your trust by working closely with you to truly understand your aspirations. We take time to get to know you and listen to your hopes for the future. A financial plan is set up and structured with your specific needs and objectives in mind. We understand that as life changes so may your goals, therefore we adjust your plan as needed.
Gardey Financial advisors provides a disciplined approach enhanced by comprehensive services and years of experience. Find out how our passion for the financial planning industry and our commitment to our clients can benefit your financial future by contacting us today. We look forward to welcoming you to the Gardey family.